---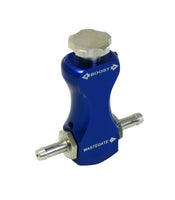 Simply replace the wastegate hose with a slightly smaller diameter hose and fit the Turbosmart boost controller in the middle.  Easily and accurately set up the boost without burning your fingers and lock your desired setting. 

On a turbocharged car the boost control is managed by the actuator on the wastegate which opens and diverts pressure away from the turbo once the inlet pressure reaches a certain limit.
If this pressure signal from the inlet to the actuator is intercepted it is possible to control the inlet or boost pressure that the actuator will open at. By far the easiest and most cost effective way of controlling the amount of pressure going to the wastegate is with a manual boost control valve.
Constructed from high quality brass and billet aluminium for excellent durability and great appearance and come complete with a fitting bracket for easier installation to suit all turbo vehicles, highly tuned or standard and both petrol and diesel.
Boost controllers are an excellent tuning solution as an improvement in performance can be seen without increasing overall maximum boost, are simple to fit, plus can be finely tuned to ensure best match to your driving style.
Applications:
For modified turbocharged engines
Perfect for increasing boost levels on factory turbo cars and turbocharged engines