---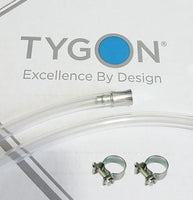 Tygon 2375 tubing 6mm + ALUMINIUM PLUG+SS CLAMPS 
Tygon 2375 Tubing is an Ultra Chemical Resistant Tubing in a clear flexible tubing that is virtually unaffected by acids, bases, ketones, salts and alcohols.   This latest formulation 2375 replaces 2075. Many racers use this tubing for non pressurised brake fluid connections, like connecting your remote reservoir to your master cylinder or to replace the reservoir completely. 
This tubing is not suitable for fuels.
Please note that this tubing has branding and information printed in green on the tube. Although this tubing is brand new off the roll it may contain small scuffs and scratches from production and manufacture. Both of these are outside of our control and is to be expected from an industrial product.


MULTIPLE ITEM PURCHASES WILL BE SENT IN ONE CONTINUOUS LENGTH.
Part Information:
Tubing Length: 12in (30.00cm)
Tubing Inside Diameter: 1/4in (6.35mm)
Tubing Outside Diameter: 3/8in (9.525mm)
Minimum Bend Radius: 3/4in (19mm)
Do not exceed minimum bend radius or kinking may occur. We accept no responsibility for kinked tubing.
Maximum Temperature: +65°C
Keep away from engine/exhausts. We accept no responsibility for heat damaged tubing.
Note:  Tubing compatible with most 6/7mm fittings
Features:
Resistant to MEK and other highly aggressive chemicals:
o    Tubing is virtually unaffected by acids, bases, ketones, salts and alcohols (See chart below)
Contains No Plasticisers:
o    Prevents fluid contamination from leaching plasticisers - a common occurrence with other flexible tubing.
o    Eliminates premature cracking of embrittlement due to plasticiser extraction.
Extremely smooth inner surface: Inhibits particulate build-up.
Hydrophobic property reduces absorption of aqueous fluids
Minimal out gassing from tubing