---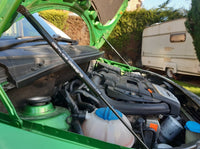 This is a bolt-on bonnet gas strut kit for the Skoda Fabia mk2 2007-2014 - no drilling or welding required.    
Replace your metal stay with the highest quality Stabilus gas struts - making it easier to work on your engine, show off your bay or just to make the car feel a bit more premium! 
Incredibly easy fitting.
Specs
-No welding or drilling needed.
-2x OEM quality Stabilus gas struts
-3mm thick laser cut brackets