---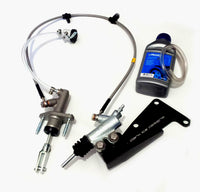 Available to purchase from our MG Rover distributor Discount MG Rover Spares:

https://www.dmgrs.co.uk
No longer impossible to find - our 'sheddist' style clutch kit is available to buy off the shelf.  It perfectly replaces the poor OEM system with a high quality and durable system that allows you control the biting point - you no longer need to bury your foot through the floor to change gears! 
We have made several improvements over the original 'Sheddist' kit based on feedback from sheddist customers.
Fits all MG Rover 45 and ZS petrol cars fitted with the PG1 gear box (1.8L k-series and 2.5L KV6).
KIT CONTAINS
Metal master and slave cylinders
Brembo reservoir

Reinforced reservoir tubing

HEL Stainless braided hydraulic line

Stainless steel fittings

Laser cut 6mm steel bracket

Bleed Tube & bleeding syringe

FREE Dot 4 fluid (only for UK orders due to Airmail regulations)

DID Clutch height adjustment kit
FITTING INSTRUCTIONS INCLUDED

*Please note - fit the clutch height adjustment kit AFTER bleeding the clutch.*