---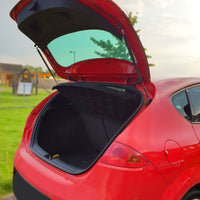 An automatic opening boot strut kit for the Seat Leon mk2 facelift hatchback - no modifications needed! Simply swap the existing struts for the new struts and when you press the boot release button the boot will smoothly open.


We have 2 kits currently; a slow controlled opening (similar to that of electric tailgates/boots) or a normal fast opening kit.
Direct replacement auto-opening boot gas strut kit on the hatchback.
Please be aware these struts do require slightly more effort to shut than the standard gas struts.


These will work with the pre-facelift mk2 if the auto open feature is turned on with VCDS.
It is the nature of gas struts to be affected by temperature. In cold weather the kit may not automatically open fully or more slowly and in hot weather the boot may require more effort to shut.   Please note these are stronger than standard struts so are fitted at your own risk.