---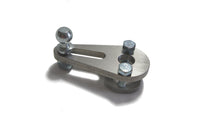 These are now solely available from our distributor Discount MG Rover Spares (DMGRS) https://www.dmgrs.co.uk/
Fitting these kits reduces the throw of the gear lever to allow quicker shifting.

Made from laser cut 6mm thick 304 stainless steel and comes with all the fittings and instructions you need.
Fits all cars with the R65 gearbox (MG Rover 1.1L, 1.4L and 1.6L k-series engines made before June 2003).
Does not fit the IB5 gear box.
**please make your own checks to ensure your gearbox is the R65 type**
Good fitting guide here;
http://forums.mg-rover.org/showthread.php?t=469507&highlight=r65+short+shifter