---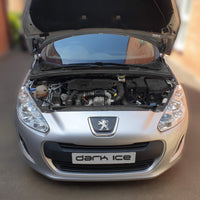 Peugeot 308 mk1 2007-13 Bonnet Gas Strut Lifter Kit
The best bolt on bonnet gas strut lifter kit for the Peugeot 308 mk1 on the market.  A high quality OEM look for your engine bay (no huge unsightly cheap far eastern gas struts that don't open your bonnet as much as the original stay).  These struts are super straight forward to fit - no cutting of plastics, drilling or welding!  This kit uses the highest quality UK/German manufactured gas struts for the problem free performance.
-No welding, cutting or drilling needed.
-Gloss black finish with Dark Ice Designs logo

-Very easy installation - fits ALL mk1 308's


 Instructions included!