---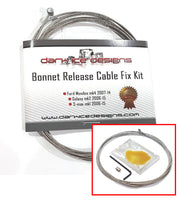 Beware of imitation products out there.  This was a unique Dark Ice Designs development that has had enormous success so inferior copies have started surfacing!

It is HIGHLY recommended to replace the cable BEFORE it snaps.  If the cable snaps with the bonnet shut it can cause a lot more work to open the bonnet before the cable can be replaced (requiring the lower covers to be removed and removing or bending the latch cover back out of the way to access the release pivot).  This kit replaces snapped bonnet release cables with a high quality stainless steel cable.

High quality stainless steel cable that will not rust and snap

Easy DIY installation


Replace BEFORE your cable snaps to make your life easier!
Fitting instructions included or watch our YouTube fitting guide;