---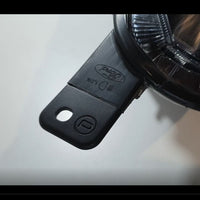 A Dark Ice Designs exclusive product designed in house here in the UK!
This kit is straight forward 'bolt on' replacement top bracket for the Ford Fiesta mk8 headlight.  The top bracket breaking and snapping is a very common problem due to the poor design of the injection moulding tooling leaving high stress areas.  These brackets are known to fail without cause (no bumps or accidents needed!).  Until now a full replacement headlight or an unsightly plastic welded repair has been the only option requiring expensive parts, tools or technical skills.
With this kit you remove part of the old bracket and replace the broken part of the bracket with a new bracket which not only looks OEM it will result in a stronger headlight with no future bracket failures!  

The kit contains all the parts you need (even a drill bit!) to fit the kit just some basic tools required (select the cutting blade + arbour if you want a plastic cutting blade & arbour included for your dremel etc to make fitting even easier). 
See our Youtube fitting guide here:

https://youtu.be/G8CvgPHvnrg
RIGHT = UK drivers side,  LEFT = UK passenger side