---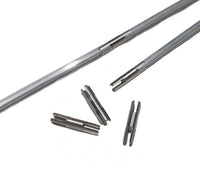 A simple push fit system allows you to connect as many axles together as you need!  Need a really long axle length that is just not available? No longer a problem!  
The ultra low profile means that these connectors can fit through stud holes without any issues.   A part Lego no doubt wished they had!

These axle connectors are push fit so are not designed for any loads that pull them apart.  If you are looking for really strong solid axle connectors that can take anything thrown at them check out our other part!

Machined from solid stainless steel these connectors come in a pack of three (x3).   No axles included - see our other listings for metal axles.