---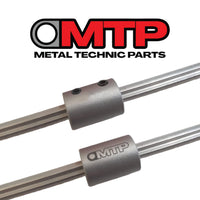 A heavy duty aluminium connector for our aluminium Lego Technic style axle shafts.  We recommend using our metal axles with these connectors.  
- Axles can be connected offset to each other for custom engagement.
- Comes with allen key for tightening.
- Allows you to connector multiple axles together for extra long custom parts.  
- Provides a very strong non-slip connection. 
-Approximately 11mm OD and 16mm long (2 stud).