---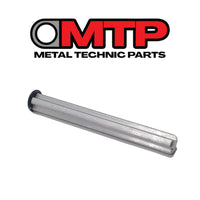 Metal technic Style axle shafts with end stop compatible with Lego Technic like part 15462. These are much stronger and stiffer than standard plastic axles and are perfect for custom builds or heavy duty use. 
The axle has one stop at the end of the shaft.
Listing is for one axle shaft of size 5L (40mm).   1 unit, stud or 1L unit is approximately 8mm.