---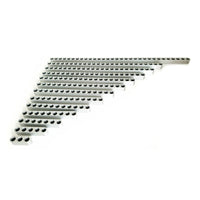 13pcs assorted pack Aluminium CNC Machined Lego Technic Style Beams
Save almost 25% on price compared to individual pieces.  These Lego Technic Style compatible beams are CNC machined from billet aluminium to provide an extremely strong and stiff characteristics, when strength and length are needed. Please see the photos showing test loading of standard plastic beams Vs aluminium beams. 
We offer beams up to 1M in length (please see our other listings for details) to provide you with the right beam for your own designs or MOC's. The beams can be cut to length individually please see the guides (cutting guides included with cutting bearings or can be supplied on request).
Using these beams there is no length or strength limitations to your own designs or MOC's now!
Please note as our beams are CNC machined from aluminium and are as a result much harder than plastic they may damage softer plastic parts and connectors if you are not mindful. 

1 x 31 stud 248mm length
1 x 25 stud 200mm length
1 x 23 stud 184mm length
1 x 21 stud 168mm length
1 x 19 stud 152mm length
1 x 17 stud 136mm length
1 x 15 stud 120mm length
1 x 13 stud 104mm length
1 x 11 stud 88mm length
1 x 9 stud 72mm length
1 x 7 stud 56mm length
1 x 5 stud 40mm length
1 x 3 stud 24mm length