---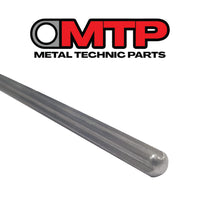 A massive 125 stud / 100cm / 1meter long metal axle shafts compatible with Lego Technic.  Perfect for custom builds or heavy duty use as they resist bending and twisting.  The extra length allows builds never before possible or can be cut down easily at home for custom length axles!

Listing is for one axle shaft per size.  1 unit, stud or 1L unit is approximately 8mm.

1x 125L stud 1000mm length


Please note there is additional shipping costs for these due to the length and fragile nature of these items requiring sturdy packaging.